PerformancesTheatrical ProductionsTeachingWorkshopsContact
---
Laura Pence
Owner and Co-founder, Aerialogy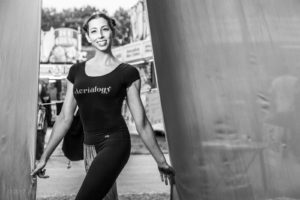 Fifteen years of power yoga were the perfect prelude to aerials for Laura, who eagerly launched her strength and flexibility off of the yoga mat and into the air in 2012. Since then she has rarely touched the ground, training, teaching, and performing every chance she gets.
Laura has been sharing the thrill of flying with students of all levels and ages since 2014 and builds her classes around progressions and conditioning. One of her passions is synthesizing vinyasa flow power yoga and silks into a seamless, high-intensity workout. Another is thin crust pizza.
Specialties
Aerial silks
Partner aerial acrobatics
Chandelyra
Aerial power yoga
---
Select Performances
Chandelyra, Aerial Silks | Indianapolis, IN | 2019, 2018, 2017
---
Va Va Va Vaudeville
Chandelyra, Partner Acrobatics | Bloomington, IN | 2018
---
Dramatic Rhythms resident aerialist
Aerial Silks | Cincinatti, OH | 2018, 2017, 2016
---
Indianapolis 500 official Snake Pit afterparty with Krescendo LLC
Aerial Silks | Indianapolis, IN | 2016
---
TEDx
Aerial Silks, Partner Acrobatics | Bloomington, IN | 2014
---
Theatrical Productions
Once Upon a Circus, 2018
Artistic Director, Co-Producer, and Aerialist
---
On Her Majesty's Secret Circus, 2018
Artistic Director, Co-Producer, and Aerialist
---
Yoshimi Battles the Pink Robots, 2017
Artistic Director, Producer, Aerialist
---
Aerial Teaching Experience
Aerialogy | Bloomington, IN | 2015 – present
Girl Scouts of South Central Indiana 2017 – present
FlowMotion Symposium | Bloomington, IN | 2019, 2018, 2017, 2016
Monroe County Fair | Bloomington, IN | 2018, 2017, 2016
Return to Roots Festival | Medford, NJ | 2015
So Ill Flow | Tall Tree Lake, IL | 2015
Flight Club Fitness | 2015, 2014
---
Workshops
Ages 13+
Aerial Elementals
Learn to let go of self-consciousness and express yourself on the silks in this choreography-based workshop. Through exercises based on earth, air, fire, water (and maybe even a Fifth Element), we will focus on creative movement, musicality, and improvisation using aerial silks. Accessible for all levels.
90 min.
Spin Cycle
This workshop is designed for intermediate to advanced students looking to speed up their spins and learn new ones. We'll explore progressions, alignment, and transitions revolving around this core silks skill.
90 min.
Prerequisites: Hip key in the air
Partner Chandelyra
Tip your lyra on its side and get ready to learn this iconic art! Perfect for students of all levels looking to explore partner work on aerial hoop. We'll cover counterbalancing, mounts and dismounts, knee hangs, standing balances, and spanset moves.
90 min.
The Spy Above Me
Prepare yourself for secret agent conditioning, sneaky climbing tactics, code-cracking aerial games, and endurance-based silks flows all set to a classic spy soundtrack. Find your black leggings and turn your fabric brain on cause it's time to blow your strength and endurance training wide open.
90 min.
Vinyasa Flow Aerial Power Yoga
This 75 minute workshop focuses on vinyasa flow, strengthening poses, deep stretching, and meditation all incorporating beautiful aerial fabric. You will sweat! For yogis, aerialists, and anyone looking for a fun, challenging workout.
Prerequisites: 5 un-modified pushups
Youth/Family
Aerial Dance
Learn a cirque-style warm up, spin and invert on the silks, develop your own aerial choreography, and perform a complete aerial dance by the end of this 90 minute workshop! Come dressed to move in leggings and a workout shirt.
Good for first-time aerialists.

---
Contact Laura
This slideshow requires JavaScript.