Ambient & Center Stage Acts
Aerial Silks
Solo, Duo, and Trio acts
Lyra (Aerial Hoop) & Chandelyra
Duo and Trio acts
Looking for an aerial T-Rex? Three flying unicorns? A mermaid who can't swim? Aerialogy offers daring acrobats and graceful aerial acts in every flavor imaginable. Get in touch to find out how we can make your event unforgettable!
---
Circus Workshops
Your festival or event guests of all ages can try aerial silks and hula hooping and enjoy dazzling performances by our team.
---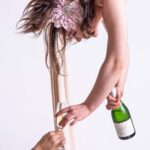 Aerial Bartending
Chande-lyra Champagne Service
Red & White Wine Silks Service
---
Considering a venue for an aerial performance?
Will the event be indoors our outdoors?
Indoors? How tall are the ceilings? (20 – 30 ft. is best.)
Do you have exposed support beams, a drop panel ceiling with access to support beams, or a rated rigging point? (If not, never fear – we can provide a free-standing rig. The rig has a footprint of about 22 ft. by 25 ft. and can extend up to 24 ft. high.)
Does the venue need to clear the rigging with their insurance? Check in advance!