---
Dynamic Drops Workshop
Friday April 8, 2016 • 6pm-8pm
Aerial Fabric Intermediate & Advanced Levels
---
Pre-requisites: Students must be able to execute the following with good form. Climb the fabric, invert from one climb, execute a hip-key, and be familiar with a double ankle hang. It's ideal if students are comfortable with single star and salto/dive.
What to Expect: This workshop focuses on a variety of drops for intermediate and advanced students. Most of the drops involve a forward or side rotation. Slack drops and fast momentum drops are also covered, so it is ideal for students to protect the backs of the knees and under-arms.
---
Private Aerial Fabric & Lyra Lessons
Saturday April 9, 2016 • 11am-6pm
All Levels
---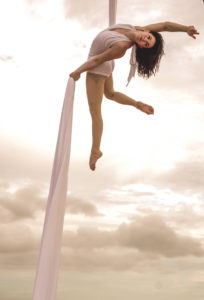 Krystyn has been teaching empowerment and confidence to students of all levels and ages since 2010. She believes that aerial and circus arts are for everyone. As an educator, her mission is to inspire students of all ages, abilities, and aspirations to find their authentic movement and embrace their unique expression of aerial dance.
Her introduction to dance began through ballet at the age of three. Her background includes five years of competitive gymnastics, seven years of performance art, and thirteen years of visual art.
Her passion for movement eventually led her to discover circus art, where she fell in love with aerial fabric. While she specializes in aerial fabric and dance trapeze, she is trained in lyra, and aerial sling & hammock.
She is the co-founder of Aerial Athlete, an aerial dance studio in Saint Augustine, Florida. Her professional education includes extensive training with the New England Center for Circus Arts (NECCA), Rain Anya of Paper Doll Militia, Susan Murphy, and Orlando Aerial Arts. In 2014, she completed a seven-month Artistic Residency at NECCA. She has completed aerial arts teacher trainings with NECCA, Paper Doll Militia, and Urban Fertility Dancer. She is a certified group fitness instructor through the Aerobics and Fitness Association of America (AFAA).
SCHEDULE A PRIVATE LESSON WITH KRYSTYN
---