Senora Loop
Aerial Silks and Aerial Hoop Instructor
Senora is a compassionate, energetic teacher and performer with a background in therapeutic exploration as well as ample experience working with children and animals. She most passionately believes in having students ponder and reevaluate the concept of "possible" with the hope that aerial training will teach students to defy pessimistic and "grounded" mentalities. Senora strongly advocates the use of fitness and aerial training for improving physical and mental well-being.
Senora has trained locally as well as with world-renowned aerial duo, Womack and Bowman, in California. This siren has stunned in several performances, such as the Aerialogy Winter Showcase, Indy 500 Snake Pit After Party, Pride Summerfest 2016, and Lotus World Music and Arts Festival 2016.
---
Laura Pence
Owner, Aerial Silks and Aerial Yoga Instructor
Fifteen years of power yoga were the perfect prelude to aerials for Laura, who eagerly launched her strength and flexibility off of the yoga mat and into the air. She has trained, taught, and performed from coast to coast, from L.A. to Philadelphia.
Laura loves to share the thrill of flying and builds her classes around flow and endurance. One of her passions is synthesizing vinyasa flow, power yoga, and silks into a seamless, high-intensity workout. She dares you to try it!
---
Aimee Polk
Aerialogy Co-founder, Aerial Silks and Aerial Hoop Instructor
A long-time movement lover, Aimee discovered and fell in love with aerial arts in 2013. She has been practicing aerial silks, aerial hoop (lyra), trapeze, and AcroYoga ever since. Since becoming an aerial silks instructor in 2014, Aimee has dedicated her spare time to inspiring Aerialogy students and igniting their passion for aerials through building strength, flexibility, creativity, and confidence. Aimee aims to offer a complete, well-rounded class to anyone ready to elevate their fitness to new heights.
Having trained with High Flyers, Flight Club Fitness, Wild Orchid Aerial Fitness and Dance, and talented aerialists and acrobats from such places as Turner's Circus, Bella Forza, NECCA, Aerial Athlete, and numerous AcroYoga specialists from around the country, Aimee continues to work on improving her skills and teaching abilities by regularly traveling and training.
Aimee has performed at a variety of venues, such as Old National Centre, The Vogue, Waldron Arts Center, Buskirk Chumley Theater, Evo, Serendipity, and various festivals such as Hyperion Music Festival.
---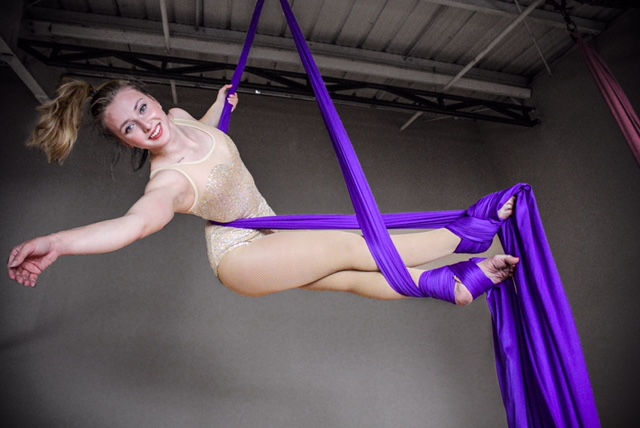 Olivia Miller
Aerial silks, Aerial hoop, Chandelyra instructor, and business owner
Olivia began aerial classes in 2015 with our very own Aimee Polk and progressed at an inspiring rate! After becoming an instructor, she moved to Indy, and began her own aerial business. She still performs and teaches with Aerialogy, but her main work is at EPIC Climbing and Fitness. This boss babe purchased her own silks, aerial hoop, and most recently an aerial net! She has trained with well known aerialists Krystyn Tsagarakis, Grace Good, Dreya Weber, and Ilsa Greatorex-Duncan.
---
Arianne Kelley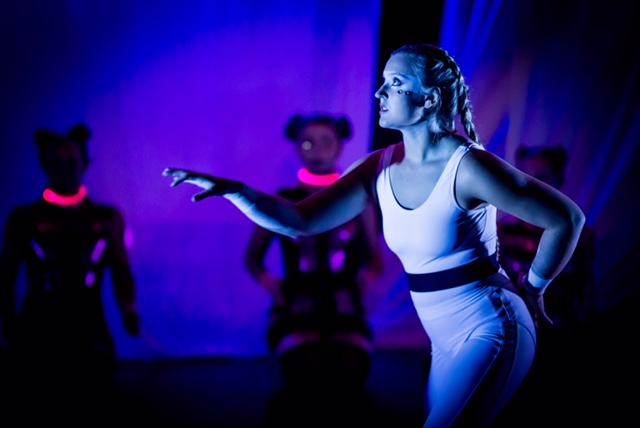 Assistant Instructor
Arianne discovered her love for aerials in 2012, as a freshman in high school. Dedicated to her education, she took a break, and came back to aerial silks and aerial hoop in 2016. Her desire for adventure brought her into the air, has taken her around the world, and sparked a deep love for philosophy and journalism! She also holds our record for most chocolate milk poured onto one head, at one whole gallon.
---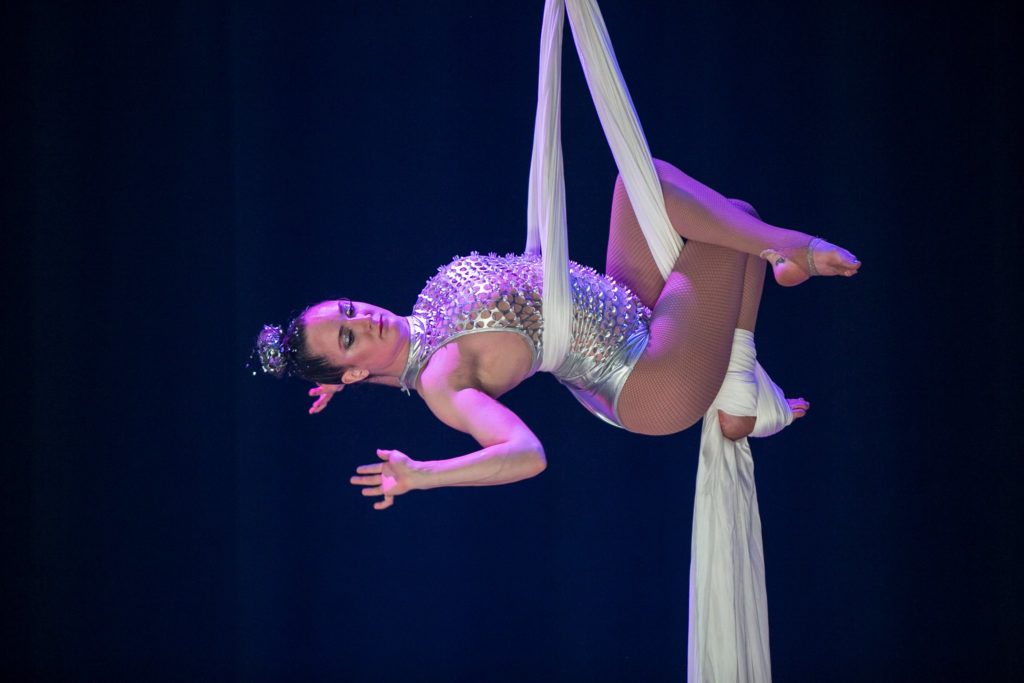 Maggie Gates
Assistant Instructor
Maggie loves the Earth dearly, but she discovered her love for being in the air in 2015. She's very passionate about growing her own food and composting. If she's not busy helping our planet, she's upside down! She spends her free time practicing handstands, doing aerial silks or aerial hoop, and conditioning.
---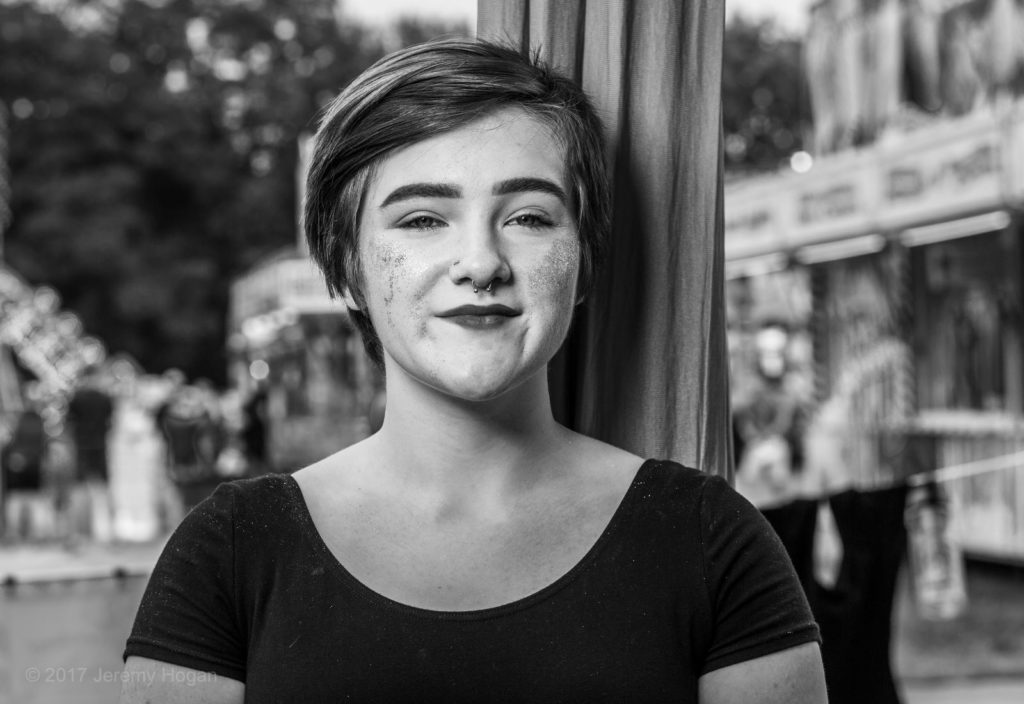 Shelby Rihm
Assistant Instructor
Shelby began her aerial journey on our silks in late 2016. Her love for all things beauty took her to cosmetology school, but her love for movement drove her to a different career path. Her goals in life are to run away with the circus, and to help people find their own appreciation for all kinds of movement.